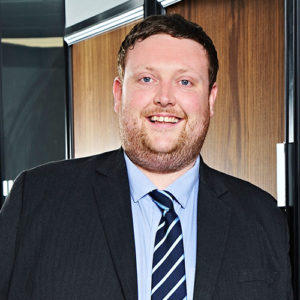 James May
SOLICITOR/COSTS DRAFTSMAN
Personal Injury
Clinical Negligence
James brings over eight years of costs experience to the team in his role of Costs Draftsman/Solicitor, specialising in Personal Injury and Clinical Negligence cases.

James studied Law at Lancaster University before completing his Legal Practice Course at the College of Law in Chester. In 2011, James proudly qualified as a Solicitor following the completion of a training contract.

His experience in Personal Injury dates back to 2008, where James worked as a Paralegal predominantly in this sector. His knowledge of running countless Personal Injury cases greatly benefits his clients as he is able to understand each matter and how both clients and claimants generally operate. Because of this, he is able to offer excellent guidance and advice when it comes to costs in these matters. Going by the saying "Too much is better than not enough", James readily makes his technical arguments as robust as possible giving much more than just the stock-standard replies.

With his approachable demeanour, James is able to build sincere relationships with all of his clients allowing for regular and honest communication. His motivation stems from client satisfaction and exceeding expectations which he prides himself on achieving. His experience as a Solicitor helps him to understand and sympathise with the amount of work it takes to successfully run a case and is motivated to have his results reflect that for his clients.

James has worked on an abundance of notable cases, some in excess of a million pounds. His most recent involving drafting a Bill of Costs in excess of £1.7 million for a seven year multi-faceted clinical negligence claim involving significant brain and physical injuries, as well as the advice of 11 experts, a case manager, a Deputy, and both Lead and Junior Counsel. Beyond this, James prepared a Bill of Costs in excess of £53,000 where the Claimant recovered £8000, The Defendant raised arguments regarding the ATE premium, but the District Judge allowed the premium in full at the Provisional Assessment.

Recently, James prepared a Schedule of Costs on this clinical negligence matter which settled pre-issue in the sum of £37,321.04. The Defendant argued numerous objections but the main issue was the ATE premium in the sum of £5,088, when they argued that the recent case of Axelrod v University Hospital of Leicester NHS Trust meant the ATE premium was unrecoverable. James advised the client to wait out the appeal in the Axelrod case as he considered it would strengthen his argument. Once the appeal had overturned the decision, James issued Part 8 and subsequently required the Court to provisionally assess the Bill. The Court allowed the ATE to be recovered in full, argued that costs were not disproportionate, and agreed with him that enhanced hourly rates for Grade A, C and D should apply. James ended up recovering over 80% of the Bill claimed plus interest, and recovered only £333.48 less than our Part 36 offer.

James also has significant experience in matters of Travel Law and Accidents Abroad, requiring a diverse knowledge base and understanding of foreign laws.

With his season ticket, you'll find James at Manchester City games. His proudest accomplishment is representing Stockport in tennis at the Greater Manchester Youth Games, still holding on to the gratification many, many years on.